Written by Cortlyn Adams and Jess Dastous
Illustrations designed by Mod Bird Creative
How to Plan your Oregon Elopement
From the expanses of the high desert to the rugged and iconic coastline, we're sharing everything you need to know to plan your Oregon elopement! Known for its diverse landscapes, Oregon is a dream elopement destination. In this blog, we are going to be breaking down all the things you need to know about eloping in Oregon! Fair warning, this elopement resource will really seal the deal for you to choose Oregon as your elopement destination; prepare to fall in love with the Beaver State and begin planning your elopement in Oregon!
---
How to elope in Oregon
1. Choose a time of year
2. Hire an elopement photographer
3. Decide on the perfect elopement location in Oregon
4. Get your Oregon marriage license
5. Plan to celebrate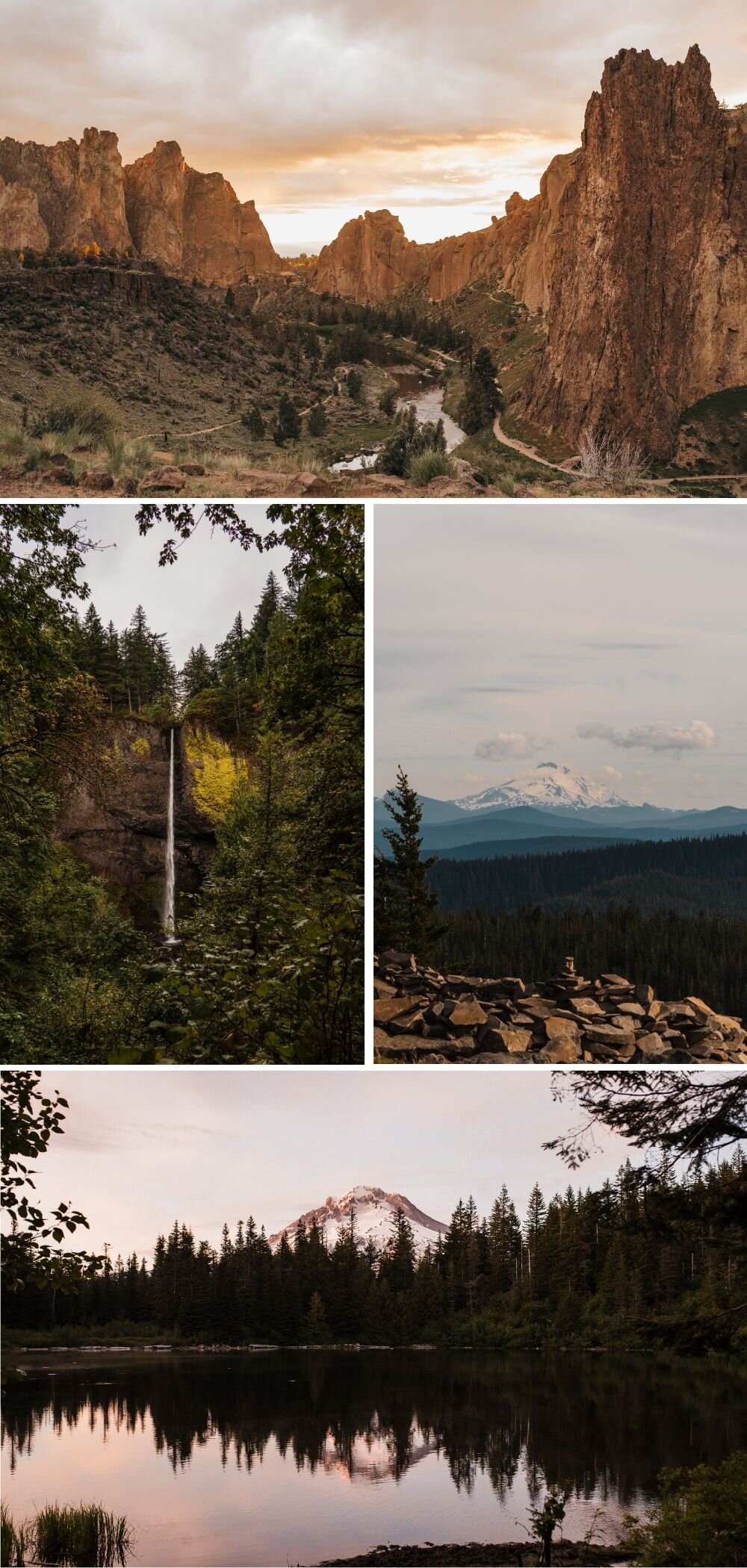 ---
When is the best time of year to elope in Oregon
One of our favorite things about Oregon is that you will find so many different climates and terrains within the state. For example, although it may be rainy in Portland, OR, it could be sunny in the high desert near Bend, OR. Overall, we think the summer and fall are the best times of year to elope in Oregon to avoid the rainy Pacific Northwest weather.
But, it's absolutely still possible to elope in Oregon during the shoulder seasons (winter and spring). If you're wanting to elope during the winter, Mount Hood and Mount Bachelor are great options for a snowy, skiing elopement. Or, if you're set on a spring elopement, the Oregon coast is a great location, too. Still not sure what time of year is best for your dream day, don't worry we created a map to help you visualize the average weather patterns in some of our favorite regions of Oregon: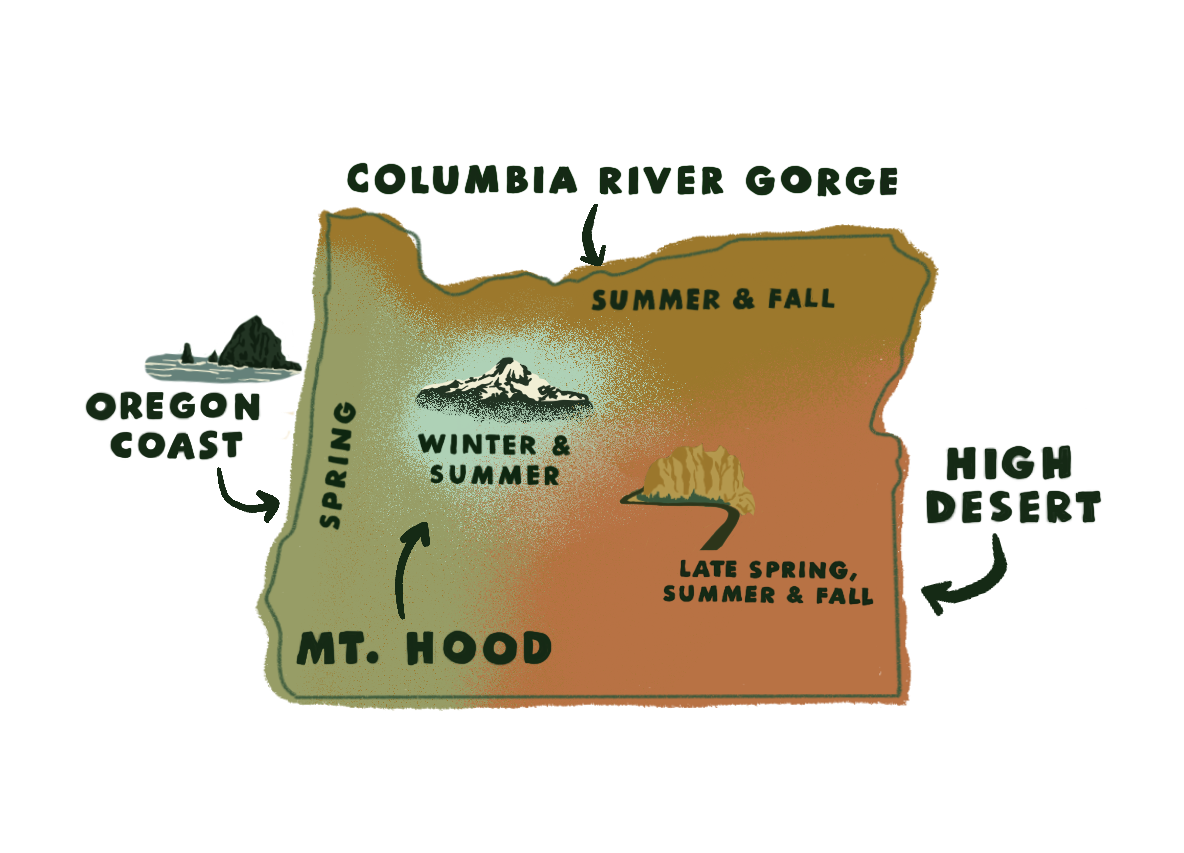 ---
How to choose the perfect Oregon elopement package
Psst…we know a pretty cool team of Pacific Northwest elopement photographers who would love to document your day. But, truly, hiring the right elopement photographer is a really important step in your Oregon elopement planning process! Of course, you'll want photos of your day to treasure for years to come. But, you also want to book a photographer with experience in adventure elopements. From day-of timelines, weather patterns and uniquely scouted locations, it's so important to work with a photographer who is well-versed in Oregon adventure elopement photography. We work really hard to care for our clients to make the planning process simple and their elopement day unforgettable.

On average, an Oregon elopement costs around $10,000, including the wedding dress and suit, bouquet, photographer and marriage license. Considering the average wedding costs $30,000, everyone should consider eloping! Want to learn more about how much it costs to elope, check out our guide here! Below, I've included the different Oregon elopement packages we offer. We recommend the full day elopement package the most often to my couples.
---
Where to elope in Oregon? Mollie's list of the top 5 best place
Like I mentioned earlier, the state of Oregon has so many different landscapes to choose from for your elopement, from the sea level to mountain overlook. So, I'm breaking down and sharing everything you need to know about my list of the top five best places to elope in Oregon:
Mount Hood
Smith Rock State Park
Oregon coast
Columbia River Gorge
High desert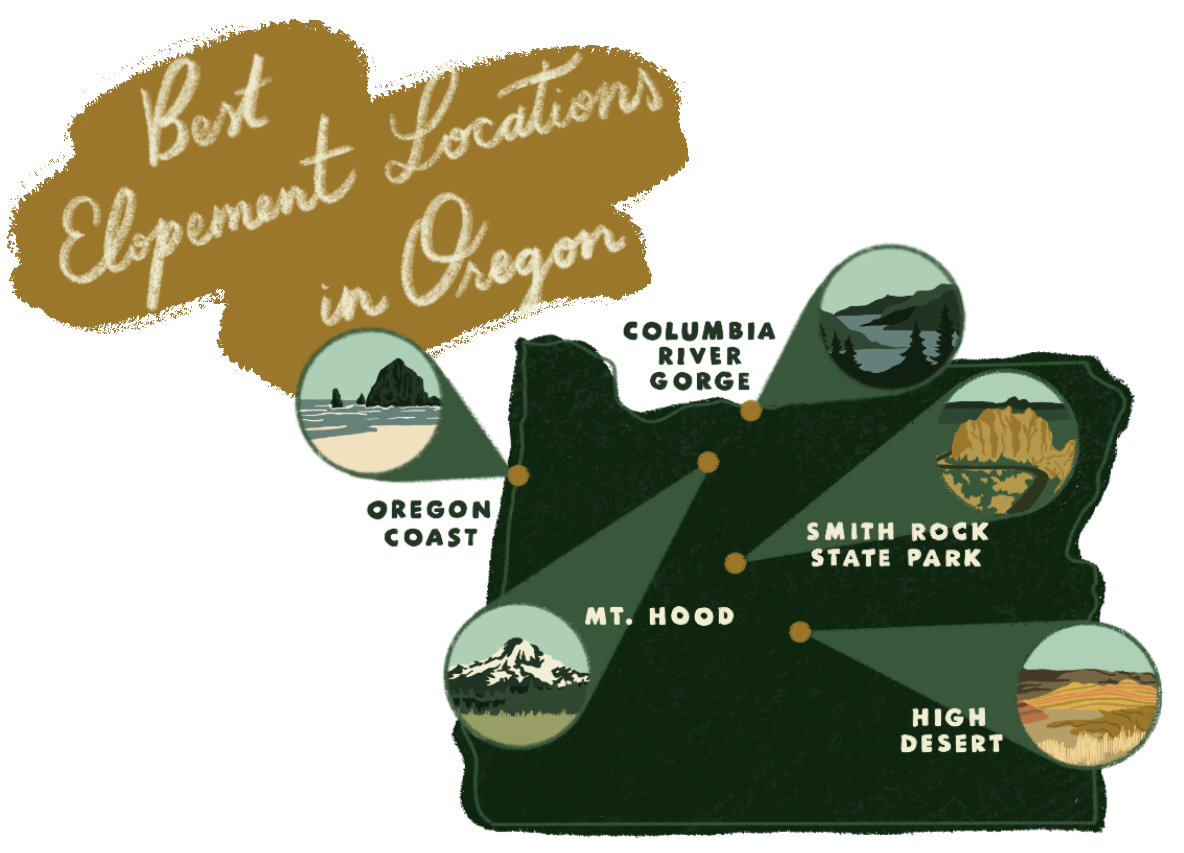 ---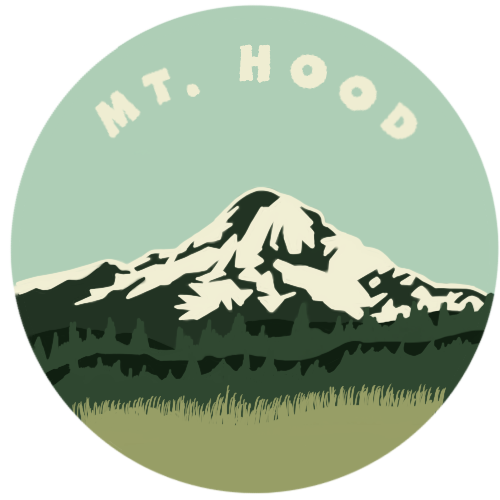 Mount Hood is the highest peak in Oregon, and is informally considered a dormant volcano. Located about two hours from Portland, Mount Hood is a great location if you're considering flying into Oregon for your elopement. The road leading to Mount Hood winds through the forest of giant pine trees, and it's easy to forget you're on a highway because it's so gorgeous. The mountain is so accessible and has so many trails, including trails leading deep in the forest, to alpine lakes, along the river and even to summit Mount Hood. One of our favorite hikes in Oregon is at Mount Hood! The hike is pretty moderate in difficulty, and it takes you to an alpine lake and to summit a mountain. Have we peaked your interest? Reach out to us about eloping at Mount Hood along our favorite trail. If you're looking for a place to stay for your Oregon elopement at Mount Hood, the Timberline Lodge would be the perfect option for you or your elopement guests. Or if you'd like to plan your elopement at a stunning Airbnb, click here for all my recommendations on places to stay and tips for your best day ever!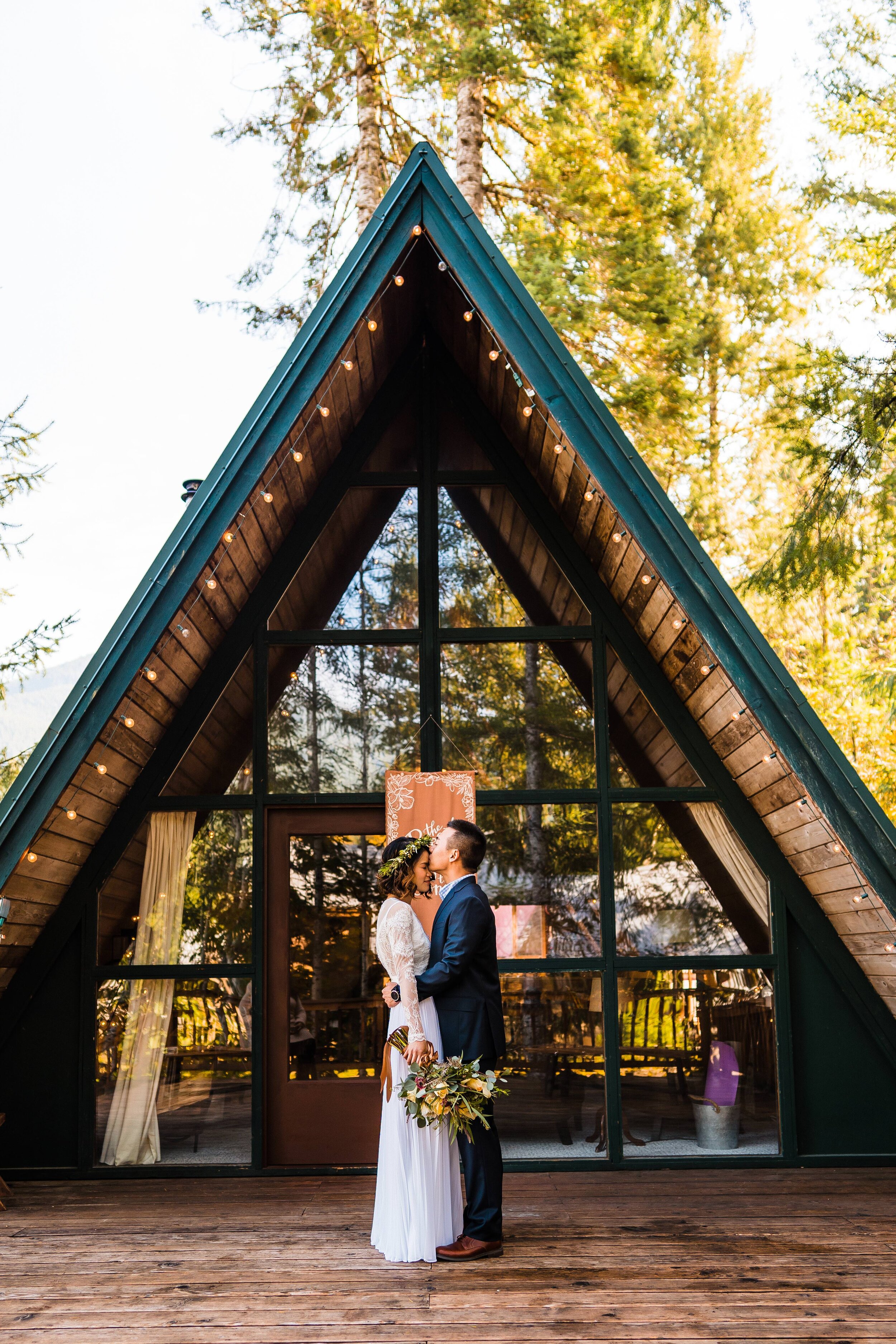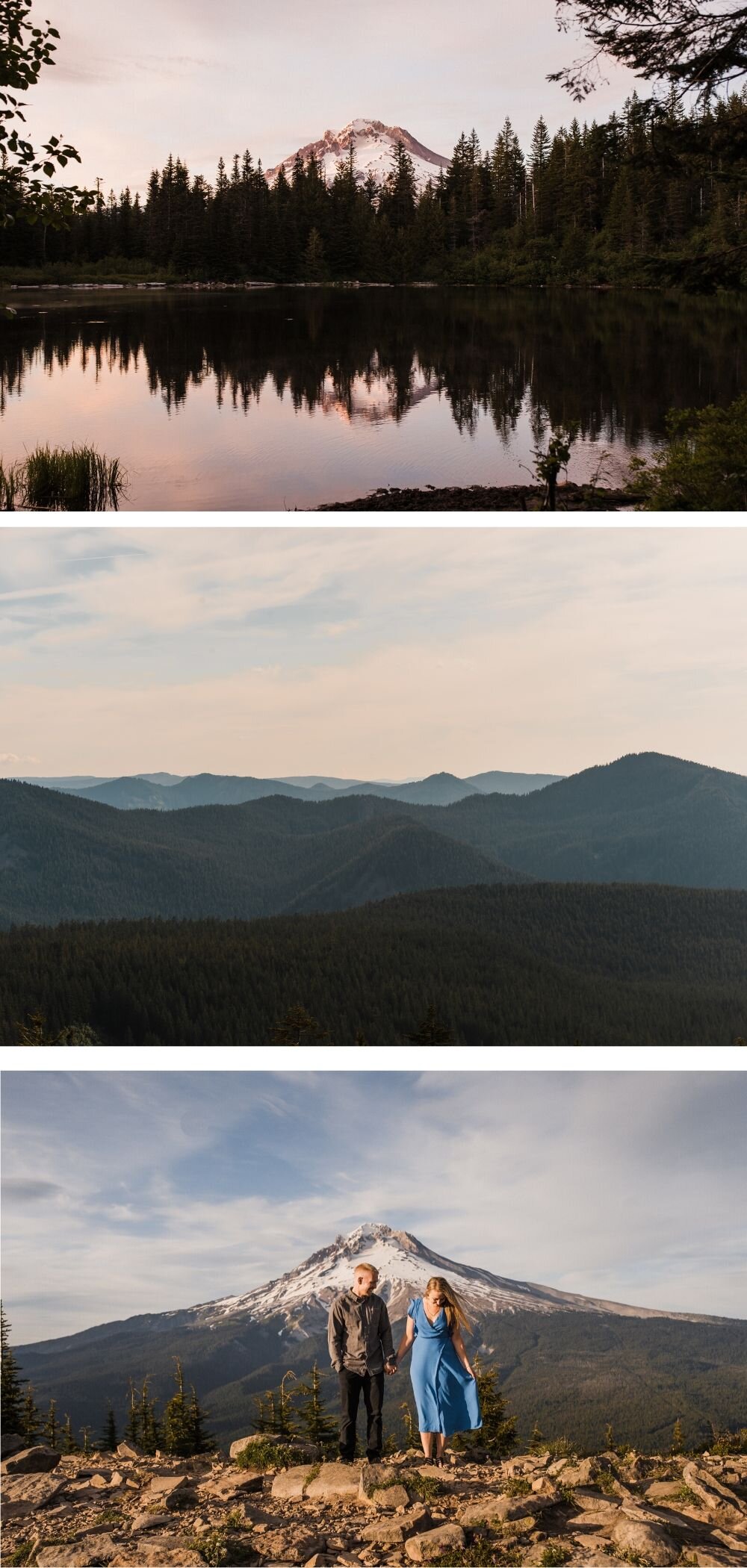 Smith Rock State Park is any canyon landscape or rock climbing lover's dream! There are several thousand climbs within the park, and more than a thousand are bolted routes. Smith Rock State Park is located right outside of Bend, OR (which we're going to brag on in just a little bit, so keep reading). This region has a unique climate, and it gets sunnier much quicker than everywhere else in Oregon. From trails through the high desert floor to the stunning overlooks from drive-up locations, Smith Rock State Park is an amazing location for an elopement in Oregon. Want to see a real elopement at Smith Rock State Park? Click the links below to explore Brianna and Zach's award-winning rock climbing elopement: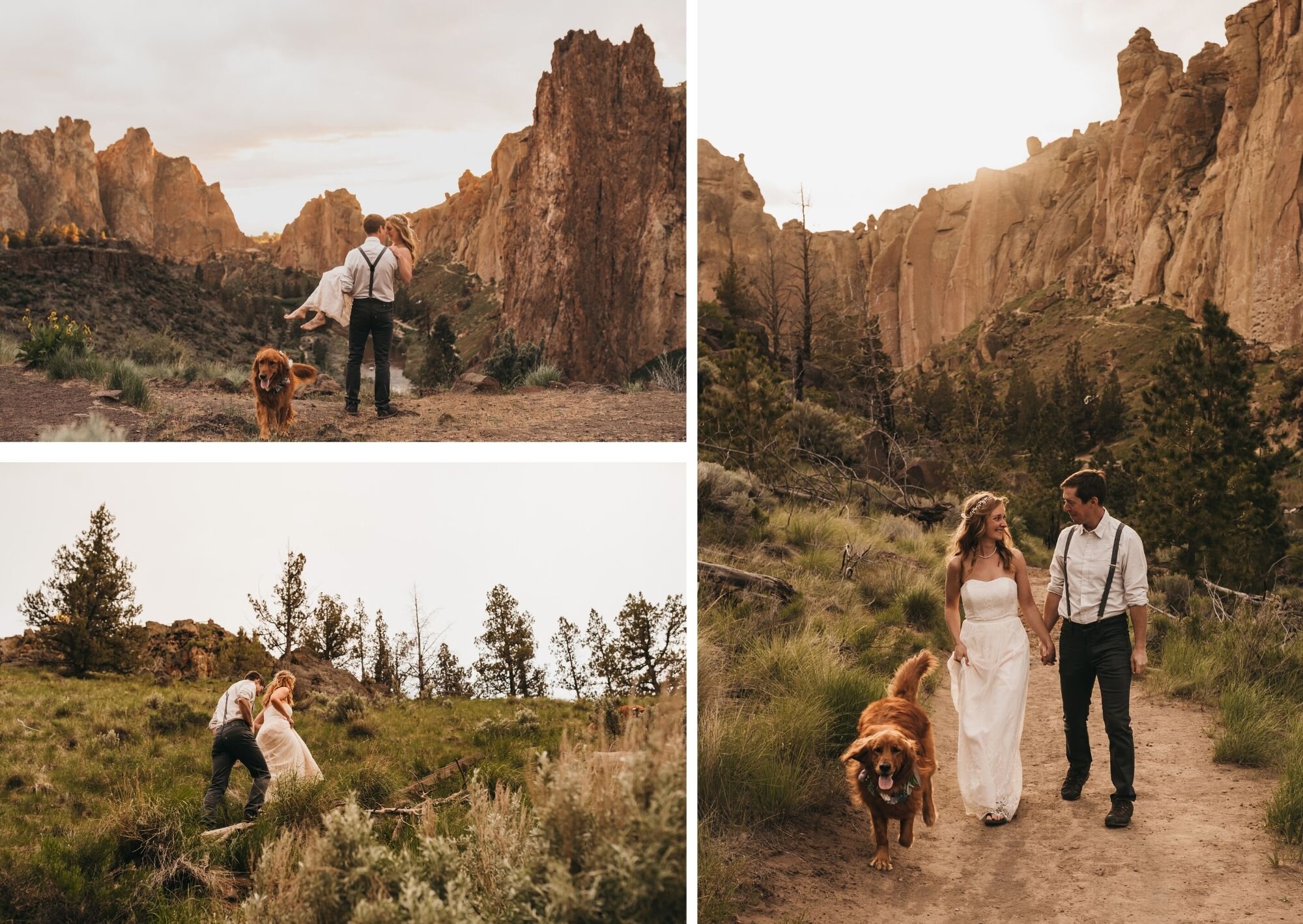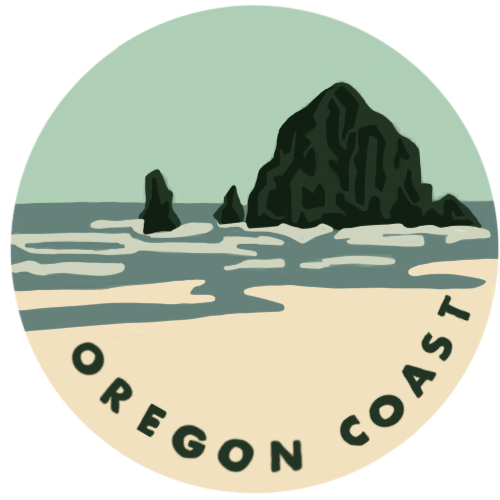 One of the country's most iconic roadways, U.S. Route 101, will take you along all 363 miles of Oregon's coastline. Stretching from the redwoods of Northern California all the way to the famous Cannon Beach, Highway 101 is a scenic-route dream! There are two specific sections of the Oregon coast that we love, Cannon Beach and Brookings, Oregon. The Oregon coast is only 80 miles from Portland, making it a great location option if you're traveling from out of state for your Oregon elopement. According to Travel Portland, "The Oregon Coast is 363 miles of rugged shoreline, where tide pools and hiking trails share sunsets with beach towns and lighthouses, and where visitors can connect with a frontier that promises to never fade away. That assurance comes from Oregon state law, which stipulates that from the surf to the brush, the public has free and uninterrupted use of the beaches." There are campsites located right along the coast, and the weather tends to be sunnier during the shoulder season than in other areas of Oregon. From whale sightings to stunning rock formations like Haystack Rock and of course the giant redwoods, the Oregon coast is like no other coastline in the country. Click here for more information about the Oregon coast to be convinced of this incredible Oregon elopement location.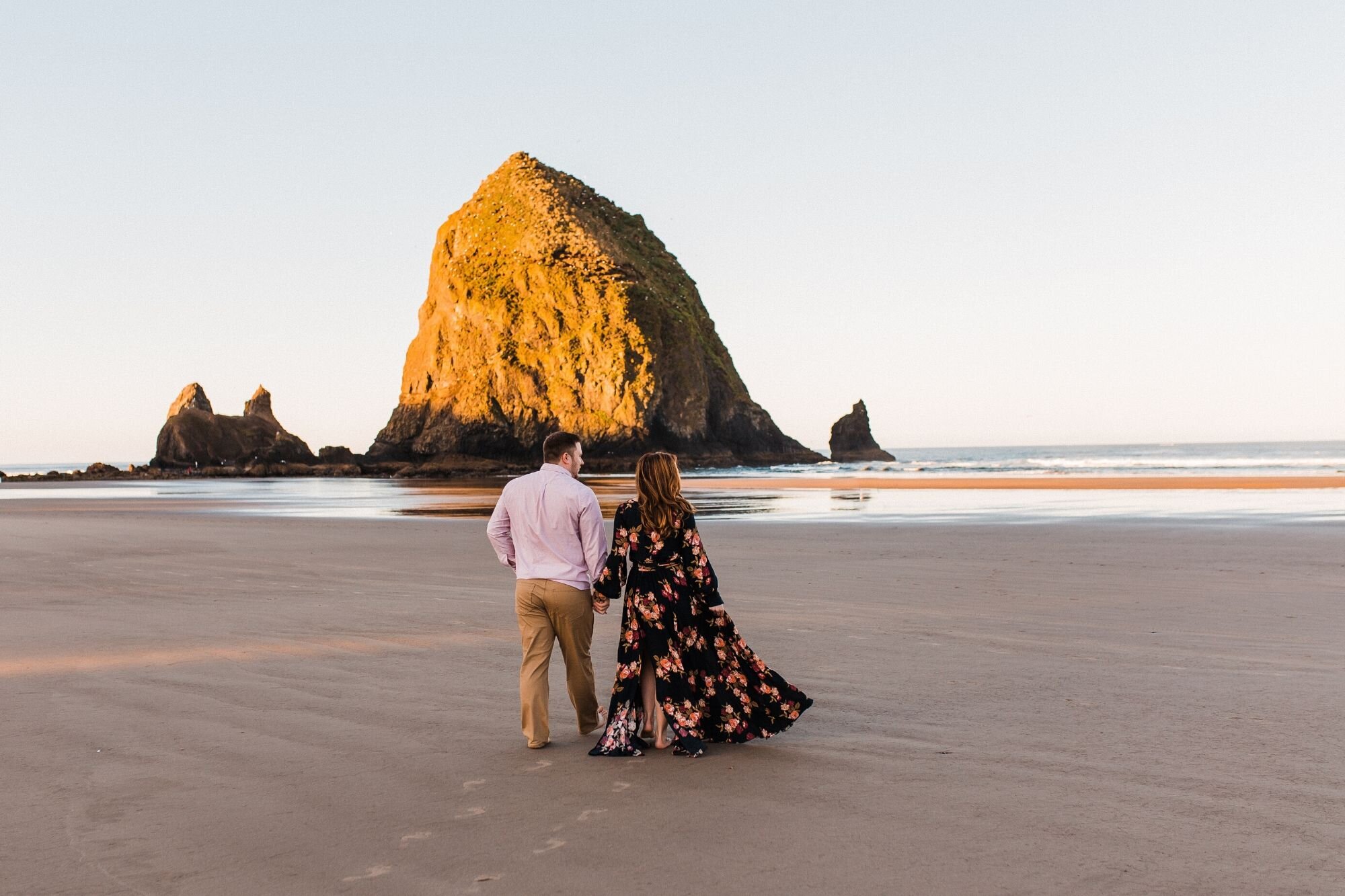 Okay, bare with us. We personally think the Columbia River Gorge is one of the coolest elopement locations in Oregon, and a huge reason why is because of its historical significance!
The Columbia River Gorge has been a vital source of resources for thousands of years, and served as the center for northwest trade among tribal nations (USDA Forest Service). Over the years, there have been trade goods found from Minnesota, the southwest, Vancouver Island and even the far north; the Columbia River Gorge was truly the pathway that connected the Pacific Northwest to the rest of the continent (USDA Forest Service). By the mid-1800s, almost 12,000 people arrived at the eastern edge of the Columbia River Gorge after traveling along the Oregon Trail. As more settlers made their way west, the inigenous people were displaced from their lands and alternative routes were created to avoid the dangerous travel conditions in the Columbia River. The historic Columbia River Highway is one of those alternative travel routes! According to Howard at Backroad Planet, this 75-mile roadway is "the oldest scenic byway in the nation" and was named "King of the Roads." This highway pioneered advances in road design and paved the way for modern highway development in twentieth-century America (Oregon Encyclopedia). In the early 1900s, a retired lumberman and hotelier Simon Benson purchased many scenic spots along the highway, and donated them back to the state of Oregon to preserve them for future generations (Oregon Encyclopedia). Boy, aren't we glad he did! Because of Benson's donation, you'll find eight different waterfalls along this historic highway!
Did you learn something new? Good! Now, let's return to our regularly scheduled programming: planning your Oregon elopement at the Columbia River Gorge. Like we mentioned earlier, there are eight iconic waterfalls along the historic highway in the Columbia River Gorge. And, for all of my out-of-state Oregon elopers, the Columbia River Gorge is only 30 minutes away from Portland. From stunning waterfalls to epic mountain overlooks, the Columbia River Gorge is a location you have to consider when planning your Oregon elopement. Want to see more about real elopements and adventure weddings at the Columbia River Gorge? Click the links below: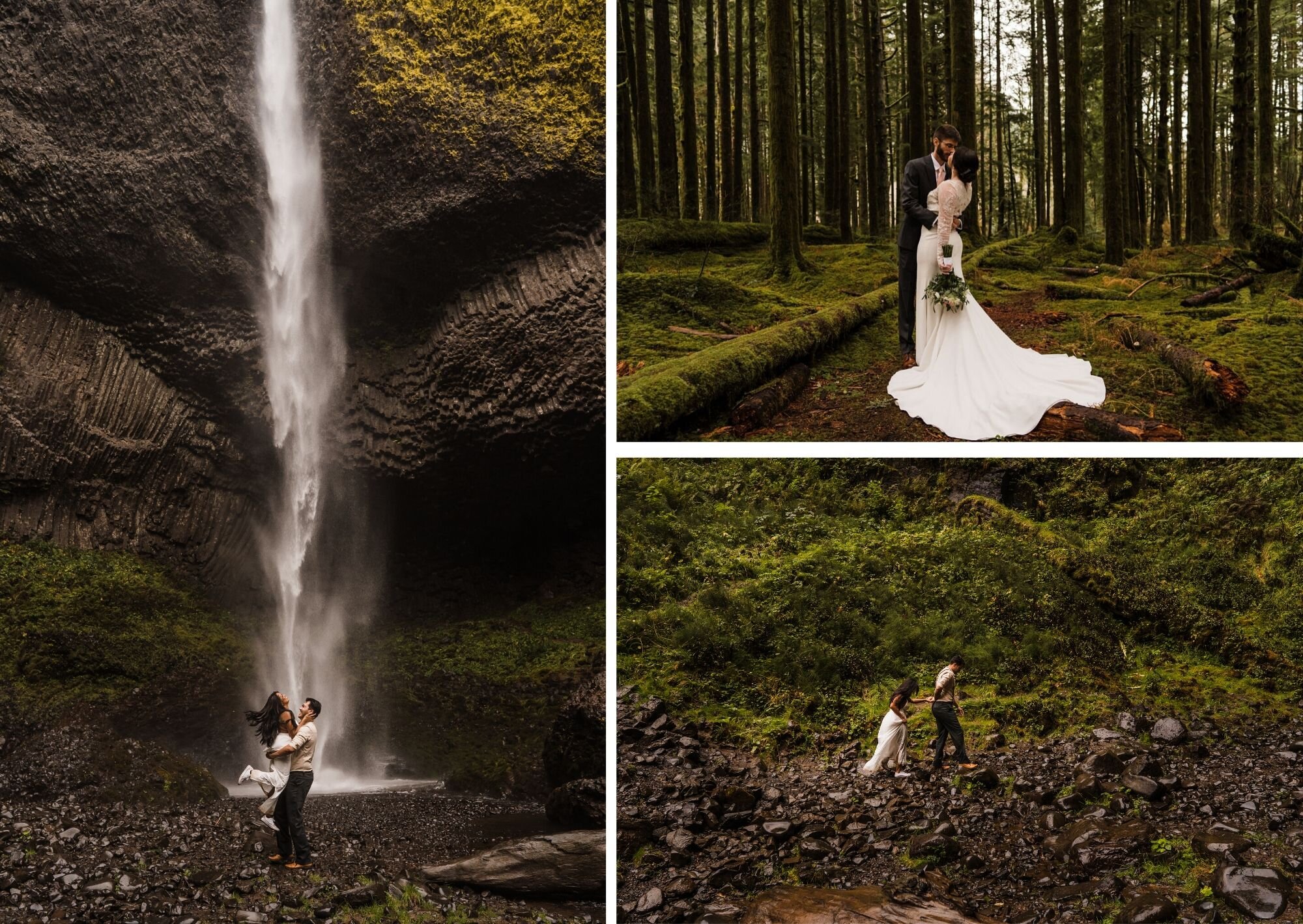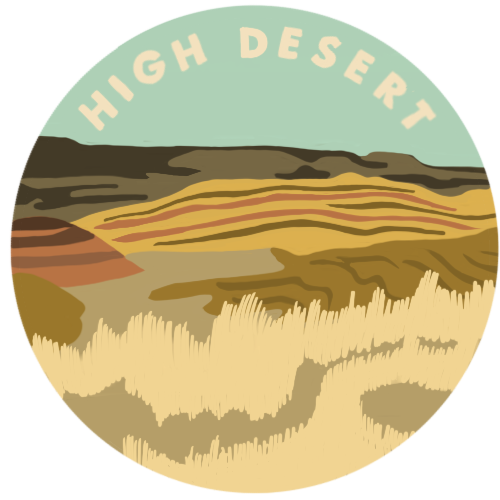 According to Grant McOmie, writer for Travel Oregon, "Oregon's high desert is vast, timeless and remote — where distances are great and people are few and where the only outposts are for miles. It's unlike any state park you've ever seen." Mollie used to live in the high desert in Oregon, so she feels a sentimental tie to the high desert. Located in the southeastern portion of Oregon, the high desert stunning, vast scenery and remarkable solitude (which is perfect for an intimate Oregon elopement). The high desert region stretches from Smith Rock State Park down to the southern stateline. And, the high desert region includes two of my favorite towns in Oregon: Bend and Sisters. These Oregon towns are perfect options for places to stay for your Oregon elopement and places to be able to celebrate with a reception at a brewery or restaurant after your Oregon elopement in the high desert.

Bend, OR is like an outdoor haven! The city offers amazing local breweries and great restaurants, making it the perfect post-elopement stop to celebrate. Mount Bachelor is located in Bend, with trails to alpine lakes, rivers, waterfalls, high desert landscapes and ponderosa pines. Sisters, OR is about 30 minutes from Bend. It's more dense in pine trees, and definitely has a small-town feel. Sisters Coffee Company is a must-stop-by in Sisters, OR.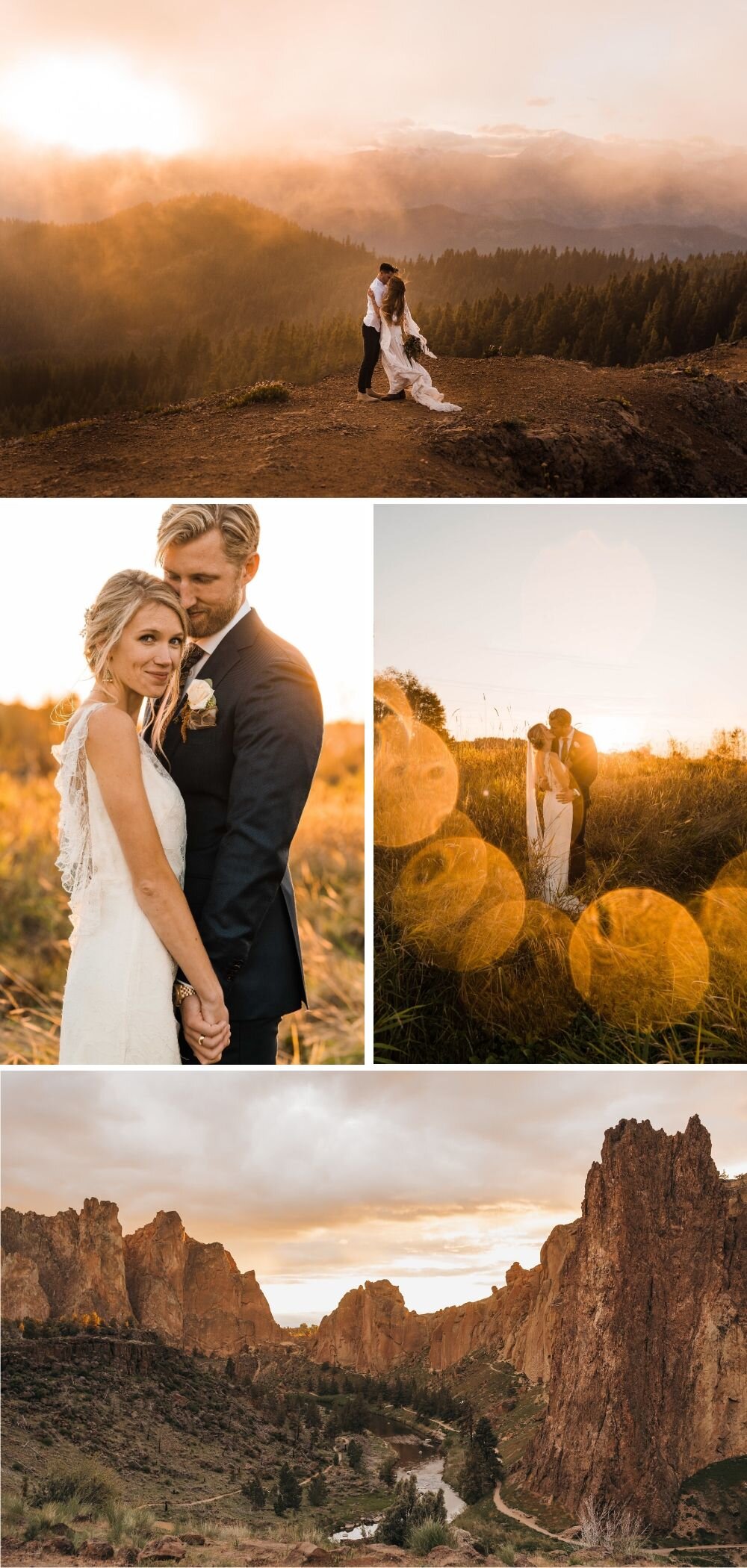 ---
How to get a marriage license in Oregon
You've got your incredible partner, the stunning dress, the dreamy flowers and the epic Oregon elopement backdrop. But, you cannot forget one of the most important witnesses to your adventure-packed vows: your marriage license! Here's what you need to know about getting your marriage license in Oregon:
You both have to be in person to get an Oregon marriage license.
You cannot get married the same day you get your marriage license because Oregon has a three-day waiting period. However, you can pay a small fee to have them waive the waiting period.
The marriage license is valid for 60 days.
An Oregon marriage license costs $60 and is nonrefundable.
You can obtain a marriage license from any county and get married in any county in Oregon. You just have to return the marriage license to the county where you obtained the license, and you are allowed to mail in the marriage license to the county.
Read about all the information you need to know about getting a marriage license for your Oregon elopement by clicking here. Also, you'll need to have someone ordained to officiate your Oregon elopement ceremony and two witnesses present (and yes, we are happy to be a witness, if needed!).
---
Plan a reception for after your Oregon elopement
Congratulations! You eloped in Oregon! But… now what? Great question! There are so, so, so many options for adventure to continue after your Oregon elopement! Here's a few ideas, but truly this list could go on for pages and pages.
You can go camping after your elopement. During the process of narrowing down your elopement location, we'll help you find the best campsite for the location and size you're desiring. This is a great option to keep the Oregon elopement day or weekend relaxed and easy-going. And remember to always practice Leave no Trace while adventuring. Learn more about Leave no Trace principles in our complete guide, here!
Pitching a tent not your cup of tea? No problem! There are amazing cabins and Airbnbs for rent throughout the state of Oregon. We can help suggest some amazing locations and cabin hosts. Check out this complete guide to planning an Airbnb wedding for my list of the best Airbnbs in Oregon!
After you've tied the knot on top of Mount Hood or overlooking the vast high desert or at the base of a waterfall in the Columbia River Gorge, you can meet up with friends and family for a celebration! Portland and Bend, OR are our top city recommendations for planning a reception following your Oregon elopement.
If you're eloping on the Oregon coast, there are tons of bed and breakfasts along the coastline that would be perfect for after your elopement. Also, Pelican Brewing is a well-known brewery on the Oregon coast that would be a great place to celebrate with friends and family.
You can lay out an epic picnic spread after you've said, "I do!" This is such a fun way to enjoy a meal with an amazing view by just packing your picnic and hiking it up to your elopement location.
For the couples who want an adventurous elopement from sunrise to sunset, a full-day elopement package is for you! With this package, we are able to document all the adventures throughout your elopement day. Airbnb Experiences is a great way to plan an excursion adventure on your elopement day. Imagine ending your elopement out on a sailboat as the sun sets. Or, you can spend the evening wine tasting at a local vineyard. Truly, the adventure options in Oregon are endless!
---
What to pack for your Oregon elopement
Curious what to pack for your Oregon elopement? Below are our top recommendations of what to pack before your adventure:
Snacks
National Park Pass
Headlamp
Layers of clothes
Bear spray
Sunglasses and sunscreen
Bug spray
Marriage license
Who's surprised that snacks are number-one on our list? The America the Beautiful annual national park pass costs $80 and will last you for an entire year's worth of adventures. It's so worth the investment! A headlamp is super important if you're wanting to catch sunrise during your Oregon elopement because most of your hike to the mountain views will be completed prior to sunrise. The temperature drastically changes as the sun rises, so we always recommend bringing plenty of layers that you can shed throughout the morning. Throw in a long sleeve, sweatshirt, down jacket and rain jacket and you'll be set! It is always a good idea to be over prepared by bringing bear spray. You just never know what furry friend you could meet along a trail in the forest! Like we mentioned earlier, you can't have an Oregon elopement without an Oregon marriage license. Still have questions about the process? We'd love to help!
---
Meet your Oregon elopement photographers
We feel most at home in the outdoors, so it's no surprise that is where we gravitate towards as your Oregon elopement photographers. Between the Pine was founded by Mollie in 2018 and she has hiked hundreds of miles all over the Pacific Northwest and Kauai, to capture couples during their Oregon elopement. Since 2018, we've grown our team and hired two incredible photographers (cue Dawn and Kass)! Dawn has been photographing elopements all over the Pacific Northwest for the last seven years and is truly incredible when it comes to capturing all the in-between moments of your Oregon elopement! Kass was previously an outdoor recreation guide and knows all the best locations to adventure during your Oregon elopement. She transitioned from guide to photographer six years ago and hasn't looked back since! Our team at Between the Pine is passionate about our jobs and adventuring to the most beautiful locations to document your best day ever. We know the Pacific Northwest like the back of our hands and are dying for a reason to head back to the mountains, forest and everything in between! Click here to learn more about the Between the Pine team, your Oregon elopement photographers!